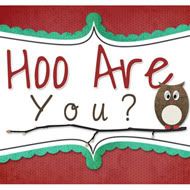 Popped over to Night Owl Crafting... 'cause I'm a night owl and all that... and it's Hoo Are You? again! Here are this week's questions!


1. What did you get/give for Valentine's Day?
Received? Nada. Gave my daughter an itunes card, a little candy and a card.


2. Do you have a vacation planned in the next couple of months or in the summer?
I'm going to Cedar Point over July 4th for 4 days/3 nights with my roommate and his family.


3. What is one thing you do to pamper yourself?
A Pedicure, but I haven't had one since Summer.
4. What sparks your interest to other people's blogs?
I like down to earth people, crafts and humor.


5. What kind of a mood are you in today?
Much better than yesterday! Definitely!!
Be sure to stop in at Night Owl Crafting and do a little blog hopping too! Don't forget my Valentine's Day/100th post giveaway! There's still time to enter!!